THE RESILIENT CHOICE.
Resiliency is the ability of infrastructure systems to absorb disturbance and still retain their basic function and structural capacity, and no other product in its class is as resilient as concrete pipe or box culverts. Whether it be during a storm, fire, or other disaster, communities rely on concrete pipe to keep their infrastructure, ecosystems, and social systems in tact.
THE SUSTAINABLE CHOICE.
When it comes to sustainability, concrete pipe is the only choice. You want to build safe, resilient, sustainable, long-lasting, and cost-effective infrastructure. So do we. Along with our members, the American Concrete Pipe Association advocates on local, state, and national levels for legislation that drives investment into our nation's infrastructure.
Concrete Pipe Week 2023
Engineered Strength. Proven Resilience. Undeniable Sustainability.
The ACPA's 2023 Concrete Pipe Week is this September 24th-30th and will be filled with activities across the country at both the national and local level. This year's theme, Engineered strength. Proven resilience. Undeniable sustainability. reflects the overall value and benefits of concrete pipe and box culverts. Like previous years, we will celebrate Concrete Pipe Week with trainings, tours, proclamations, celebrations, and fun.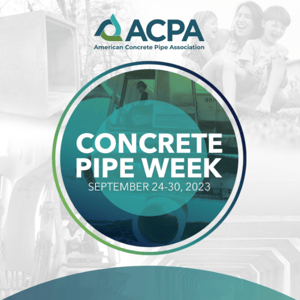 Hoesing Named Chairman
Steve Hoesing named as the new ACPA Chairman of the Board
The American Concrete Pipe Association (ACPA) is pleased to announce the association's new Chairman of the Board and new Board of Directors members, both confirmed during the ACPA's Annual Convention held April 2-4, 2023. Steve Hoesing, President of Pipe, Precast, & Prestress at County Materials, has been named the 116th Chairman of the Board and will serve a one-year term. Along with a new chairman, Hank Gottschalk, Concrete Pipe & Precast, and Dave Swenson, Eastern States Steel Corporation, have been named to the Board of Directors.
Read the press release