Durable. Resilient. Sustainable.
Concrete's durability and resiliency makes it one of the most sustainable infrastructure materials available.
In nearly every industry today, sustainability is a central focus and infrastructure is no exception. To be sustainable, a community's infrastructure needs to be able to efficiently and reliably support its current needs, but also its growing needs for the future with minimal-to-no disruption to the surrounding environment or without causing a long-term financial burden.
Concrete pipe's inherent resilience, strength, and durability does just that.
Designed to have a life of 100 years, but proven to have more, concrete pipe has provided communities with long-lasting and resilient infrastructure hundreds of years and will continue to be the most sustainable solution for communities moving ahead.
The Principles of Sustainability
The definition of sustainability continues to evolve as does the narrative around it and society's need for long-lasting solutions, but often revolves around three main principles: economic, environmental, and social. The general nature of concrete pipe and box culverts along with the companies that produce them makes these products as some of the most sustainable infrastructure products.
The positive economic, environmental, and social impact that concrete pipe and box culverts have are innumerable. The strength and durability of these products give them a designed life of 100 years, but they are proving to last much longer and with minimal repair and maintenance needed. Additionally, producers of concrete pipe and box culverts are deeply integrated into the communities they serve. Highly contributing to the economy through good paying, stable jobs as well as sourcing as many materials locally as possible, the communities producers are a part of are the communities they have helped build.
Resilience & Sustainability Report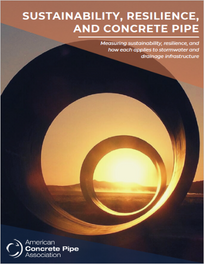 If you want to learn more about how concrete pipe has proven itself as the best environmental, economic, and societal drainage choice, download and read our Resilience & Sustainability Report.
Authored by ACPA members from around the country, the report talks about the role of resilience in sustainability and compares concrete pipe to other materials used for stormwater drainage.
Environmental Considerations and Carbon Footprint
In nearly every industry today, sustainability is a central focus. Are the products being produced and processes used to create them harmful to the air, water, or land? How can we measure the environmental impact of production and know with certainty we're making a responsible choice for the environment? In the concrete pipe industry, we take sustainability very seriously. Our products are locally available, produced with materials from the earth, and designed to last for generations.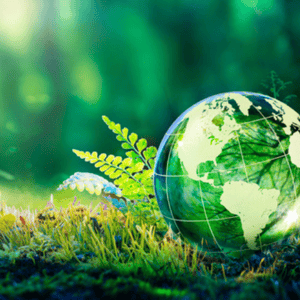 Understanding Product Emissions and Concrete Pipe
What's the impact of different building materials on relative global warming? According to recent data, reinforced concrete pipe (RCP) produces anywhere from 90% to 95% less CO2 emissions per unit weight than alternative product materials. To understand the total amount of emissions a product produces, it's important to first examine the product's entire life cycle. That starts with looking at product emissions.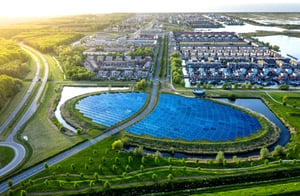 Transportation Resilience for a Changing Climate
Year after year, States and communities across the Country are seeing an increasing number of intense extreme weather events, causing substantial impacts to transportation systems across the United States. This webinar focuses on resiliency and sustainability by featuring Pennsylvania Department of Transportation and how they are working toward meeting the challenges involving climate change, equity, infrastructure resiliency, and safety.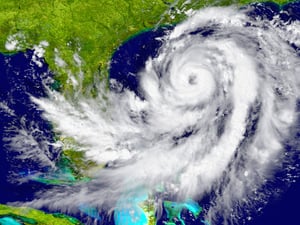 Resilience & Sustainability of Concrete Pipe
Building safer and more resilient communities comes in a variety of ways, from product, to design, to installation. This webinar will focus on how adhering to DOT installation standards for concrete pipe will increase the longevity and value of infrastructure by reducing potential failures and decreasing maintenance costs.